---
We were so delighted to attend the Melbourne Wine & Food Festival – The Village Feast held in Jindivick last week – click here to read our blog about it!
EJ Whitten Foundation – Time to Test
While in attendance we proudly got to support the EJ Whitten Foundation in their "Time To Test" Program. Atticus Health representatives, Floyd, Clare and Toria assisted in taking the blood pressure of some of the local attendees and stall holders.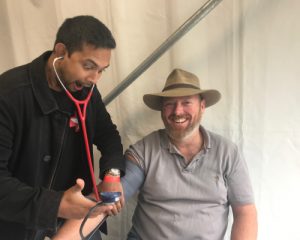 AFL Victoria is encouraging all Victorian men to get a health check this season with the E.J Whitten Foundation's "It's Time to Test" program.
Established in the memory of AFL great and 321-game Footscray legend, Ted Whitten Senior, the EJ Whitten Foundation (EJWF) is spreading the message of men's health through the launch of a new awareness program run through community football clubs.
Supported by the Department of Health & Human Services, the "It's Time to Test" program aims to improve men's health knowledge and behaviours and start the conversation about the importance of being proactive with their health.
With one in nine Australian men developing prostate cancer in their lifetime, AFL Victoria is encouraging all community football clubs to get involved in the program through a number of different initiatives.
Objectives:
Increase awareness of Prostate Cancer.
Promote Early Detection.
Raise Funds for research in to the Disease.
Prostate Cancer:
Prostate Cancer is the most common form of cancer in men, excluding some types of skin cancer. Testing for Prostate Cancer is now simple.
Men's Health:
We're committed to raising awareness on the Health benefits of regular Physical Activity. There are a lot of ways to get the physical activity you need!