---
If you're looking for something to spice up your fitness routine, now is the perfect time! Take advantage of the Premier's Active April initiative. Active April is a program that is run every year, by the Victorian Government to promote healthy and active lifestyles.
Welcome to Premier's Active April
You can register online, or download the app to your mobile phone. Once you have registered, the program will list all the participating local facilities and events. Participants receive passes to local fitness centres, exclusive invitations to fitness-related events, and a large variety of discounts for entrance to participating businesses, ranging from Sea Life Melbourne Aquarium to Otway Fly Treetop Adventures
If you are a Hastings local, Somerville Health and Fitness Studio is offering a free 10 day Recreation Pass to all Active April participants. This includes swims, group fitness classes and use of the gym. So even if you're already a visitor to our gym here at the Hastings clinic, you could still take advantage of this deal to diversify your fitness interests. So far, I have used my participation in Active April to add lap swimming back into my fitness regime.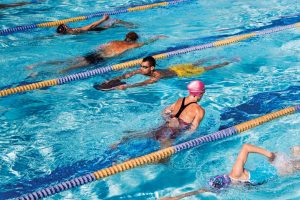 Using the website or app, you can record your activities to monitor your progress – and help achieve that 30 minutes of exercise a day! You can also form teams with your friends and family, if you want to add a competitive edge.
Another perk that has been added this year is the Get Active Workout Program, which provides various instructional videos for home-based workouts, which don't require any equipment.
So what are you waiting for? Register now for your most active April yet!
Saana