---
It's that time of year to get orchard-fresh apples. The Mornington Peninsula has some brilliant local orchards to meet all of your apple needs!
If you're after a great variety of local apples, family-run business Staples Apples in Main Ridge has what you need. The Staples family has operated the business for more than sixty years, providing scrumptious seasonal products from their orchard to the residents of the Mornington Peninsula. They grow every apple from Fuji to Pink Lady, and believe that their products speak for themselves, with sampling being an important part of their sales.
Staples also sells delicious cherries in December and January – perfect for your Christmas lunch! The sweet treats are well worth the hinterland drive.
http://staplesapples.com.au/about-us/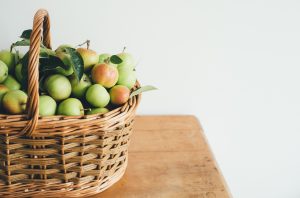 For a unique cider experience, I have to recommend the Mock cidery in Red Hill. They have an array of apple and pear ciders on offer, in a quaint farm setting. You can enjoy a tasting paddle of ciders made from freshly grown apples, either inside the rustic building with a crackling fire, or in the courtyard with chickens bustling around. They are open 7 days, and offer a large selection of both alcoholic and non-alcoholic ciders and juices.
The Mock orchards also produce my family's favourite apple cider vinegar. The vinegar is also made using their certified biodynamic apples. Perfect for dressing salads or pickling your own vegetables at home.
http://mockredhill.com.au/about-us
If you find yourself with too many apples to eat, what better use for them than in the perfect autumn dessert – apple crumble! Here's a tasty recipe to try, recommended by our Atticus GP Clinics experts  .
INGREDIENTS
4 lady williams apples, peeled, cored, halved, thinly sliced
375ml (1 1/2 cups) unsweetened apple juice
1/2 teaspoon ground nutmeg
2 tablespoons granulated sweetener (Hermesetas Gold brand)
55g (1/2 cup) hazelnut meal
2 tablespoons plain flour
1 tablespoon cold water
1 x 200g carton no-fat vanilla yoghurt
METHOD
Preheat grill to medium. Place the apple, apple juice, nutmeg and half the sweetener in a medium saucepan over high heat. Bring to the boil. Reduce heat to low and simmer, uncovered, for 15 minutes or until the apple softens. Spoon apple mixture into a round 20cm (base measurement) ovenproof dish.
Meanwhile, combine the hazelnut meal, flour and remaining sweetener in a bowl. Add the water and stir until it resembles coarse breadcrumbs. Sprinkle evenly over the apple mixture.
Cook under preheated grill, about 7cm from the heat source, for 2 minutes or until golden. Serve with yoghurt.
https://www.taste.com.au/recipes/apple-crumble-3/62a94be9-731f-4c30-a80e-8510d874e215