---
Mother's Day is approaching, and what better way to celebrate than to take your mum on a fun run raising money for the National Breast Cancer Foundation? The event is held in many locations and offers different participation options to accommodate for varying fitness levels.
https://www.mothersdayclassic.com.au/
The Mother's Day Classic is a fitness and fundraising event that has been ongoing for 22 years and so far has raised over $35 million for the NBCF. What a wonderful thing to be a part of!
You can forms teams with your friends, family, workmates or other groups. Fundraising is encouraged, and there is merchandise available online. One of the most important things to do is dress up in as much pink as you can find! There is just something about seeing hundred of men, women and children embracing the spirit of the event that makes you really feel a part of something special.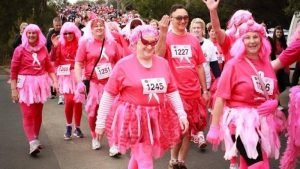 The Balnarring-Somers event begins at the Coolart Wetlands and Homestead and offers a 4km walk, a 4km run and an 8km run. The walk goes through the wetlands and park and is suitable for most fitness levels. Both runs will go through the surrounding roads and the paddocks in the homestead. My team and I will be splitting between the 4km walk and the 4km run and meeting up again at the end.
The Flinders event departs from the Flinders Yacht Club and has the option of 4.5km walk, 4.5km run or 9km run. The Flinders walk and runs both follow a course that wind above the cliffs of Flinders, offering spectacular views of the ocean.
For those wanting to support the cause, but unable to attend the event, you can either sponsor a participating friend or family member, or else donate directly to the NBCF through this link:
https://www.mothersdayclassic.com.au/how-to-donate/
I hope to see some of you at the Balnarring-Somers event! Send us any fun photos from the event, wherever you participate.